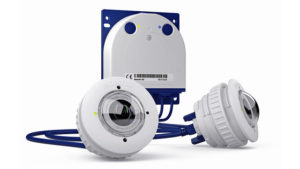 The World's First Flexible Dual Thermal Camera.
The compact S15 FlexMount is a universally deployable, easy concealable video system. The fully weatherproof IP camera has two sensor modules, which can each be connected to the camera housing with a cable of up to 3m.
The thermal sensor modules measure the thermal radiation of objects, so that they can function in absolute darkness. Together with the new MxActivitySensor, they can reliably detect motion in images at night. Only changes in position trigger a signal. Objects moving on the spot do not trigger a signal. The thermal sensor modules also have an advantage during the day since they can detect moving objects in shadows, semi-darkness, smoke, or behind bushes.
Weatherproof Thermal Sensor Modules (IP66)
The thermal sensor modules are also designed for connection in the weatherproof aluminum housing on the S15 camera, for example, for customer-specific special installations. Here, it is possible to connect two thermal sensor modules to a camera in a very flexible way using up to three-meter cables for each module. MOBOTIX thermal cameras are designed for around-the-clock operation in industrial conditions. Just like for the M15-Thermal, there are different focal lengths available: wide-angle 45°, tele 25° and tele 17°.
PTMount-Thermal
Manual Pan-Tilt Mount With Integrated Thermal Sensor
MOBOTIX offers the high-quality, weatherproof PTMount-Thermal (IP66), an attractive, compact, discreet and dome-shaped mount that is adjustable in three directions and contains a pre-installed MOBOTIX thermal sensor module. It is always possible to find the right position thanks to the great flexibility available when adjusting the modules. When mounted to a wall, for example, the mount makes it possible to compensate for sideway tilt and to realign the image horizon horizontally to record the best possible image of the area to be secured.
The following thermal sensor module combinations are possible with the S15:
Mixed operation (1 x thermal sensor module, 1 x 6 MP sensor module):
The advantages of an S15 with a thermal sensor module and simultaneous daylight sensor lie in the combination of both images: brilliant 6-megapixel images during the day and in twilight hours and reliable motion detection at night.

Dual thermal operation (2 x thermal sensor module – only possible with the S15, not with the M15-Thermal):
Two thermal images of two different image areas with just one camera

Single thermal operation (1 x thermal sensor module):
One thermal image, thermal sensor module with flexible mounting
S15 DualFlexBody
Indoor/Outdoor:
In/Outdoor, weatherproof (IP65), -30…+60 °C
Sensor modules:
Thermal sensor modules,
optionally with Thermal Radiometry (TR)
Optical 6MP: L10 – L270
Sensitivity:
Thermal: NETD typ. 50mK, <79mK
Optical: 6MP
Pan/Tilt/Zoom:
Continuous up to 8x Zoom + Pan/Tilt (digital)
Max. Image Rate:
9 fps
even when the thermal image sensor and (optional) MOBOTIX sensor module are displayed simultaneously
Min. Light Intensity:
Thermal: 0 lux
Color: 0.25 lux (t=1/60s) • 0.013 lux (t=1/1s)
B/W: 0.05 lux (t=1/60s) • 0.0025 lux (t=1/1s)
Interfaces:
Ethernet 10/100 Mbit, MiniUSB, MxBus
Internal DVR:
MicroSD (4 GB card pre-installed)
Audio/Telephone:
Microphone in the sensor module, lip-synchronous audio, two-way speaker, audio recording, ext. speakers can be connected directly
Power Supply • In/Out:
PoE (IEEE 802.3af/t) • PoE-class 3 • typ. 5,0 W, < 5.5 W with additional MX sensor module
Software Features:
Thermal Radiometry (optionally), VideoMotion, external signals, temperature sensor, microphone, shock sensor, notification via eMail, FTP, telephony (VoIP, SIP), video alarm management, multiview, event search
Arming • Triggering:
365-day schedule • multiple events
External Storage:
Up to 4 TB on PC/Server/NAS
Article No.:
MX-S15D-Sec