Discreet. Flexible. Hemispheric.
The compact Flex camera is a universally deployable, easy concealable video system with a highly detailed resolution of 6 megapixels. The fully weatherproof IP camera has an integrated sensor module. Thanks to the hemispheric lens, an area can be secured without any blind spots.
HiRes 180° Panorama
One Flex camera replaces of up to four standard cameras, with detailed, wall-to-wall panorama images.
MxAnalytics
Heatmaps and people counting
Mobile-Ready (DIN EN 50155)
For buses, trains and other types of vehicles. Increased security thanks to HiRes video. With minimal technical requirements.
Weatherproof Professional Solution
Extremely robust and durable in indoor and outdoor environments. For day and night use, from -30 to +60° C (-22 to +140° F). No additional heating required.
Decentralized Complete System
Camera with on-board image processing guarantees a minimal network load. Long-term storage on an internal SD card or externally on NAS.
Low Total Costs
Low power consumption with under 5 watts (PoE supply). No wearing mechanical moving parts. Free-of-charge software for PC, tablet and smartphone.
With the MOBOTIX AudioMount, you can also use the Flex camera as a hemispheric Door Station (door station function with firmware 4.1.9 and higher).
A description can be found in the Camera Manual, chapter "Setting up a FlexMount as a Door Station".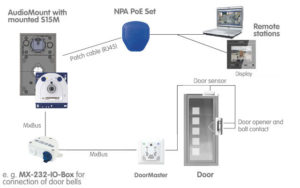 Flex S15M
Indoor/Outdoor:
In/Outdoor, weatherproof (IP66), -30…+60 °C
Sensor modules:
(eq. 35mm)
B016 (180°)
Sensor Resolution:
6MEGA
(3072×2048)
Pan/Tilt/Zoom:
Continuous up to 8x Zoom + Pan/Tilt (digital)
Max. Frame Rate (MxPEG):
30@HD • 20@FullHD • 8@6MP
Min. Light Intensity:
Color:
0.1 lux (t=1/60s) • 0.005 lux (t=1/1s)
B/W:
0.02 lux (t=1/60s) • 0.001 lux (t=1/1s)
Interfaces:
Ethernet 10/100 Mbit, MiniUSB, MxBus
Internal DVR:
MicroSD slot (4GB card pre-installed)
Audio/Telephone:
ext. speakers/microphone can be connected directly (e.g. AudioMount)
Power Supply • In/Out:
PoE (IEEE 802.3af/t) • PoE-Klasse variable, typ. 4.5 W
Software Features:
VideoMotion, external signals, temperature sensor, microphone, shock sensor, notification via eMail, FTP, telephony (VoIP, SIP), video alarm management, multiview, event search
Videocodecs:
365-day schedule • multiple events
External Storage:
PC/Server/NAS
Article No.:
MX-S15-D016
MX-S15-N016
Flex S26
Indoor/Outdoor:
In/Outdoor, weatherproof (IP66/IK07), -30…+60 °C
Sensor modules:
(eq. 35mm)
B016 (180°)
Sensor Resolution:
6MEGA
(3072×2048)
Pan/Tilt/Zoom:
Continuous up to 8x Zoom + Pan/Tilt (digital)
Max. Frame Rate (MxPEG):
42@HD • 34@FullHD • 12@6MP
Min. Light Intensity:
Color:
0.1 lux (t=1/60s) • 0.005 lux (t=1/1s)
B/W:
0.02 lux (t=1/60s) • 0.001 lux (t=1/1s)
Interfaces:
Ethernet 10/100 Mbit, MiniUSB
Internal DVR:
MicroSD slot (4GB card pre-installed)
Audio/Telephone:
ext. speakers/microphone can be connected directly (e.g. AudioMount)
Power Supply • In/Out:
PoE (IEEE 802.3af/t) • PoE-Klasse variable, typ. 4.5 W
Software Features:
VideoMotion, external signals, temperature sensor, microphone, shock sensor, notification via eMail, FTP, telephony (VoIP, SIP), video alarm management, multiview, event search
Videocodecs:
365-day schedule • multiple events
External Storage:
PC/Server/NAS
Article No.:
Mx-S26A-6D016
Mx-S26A-6N016