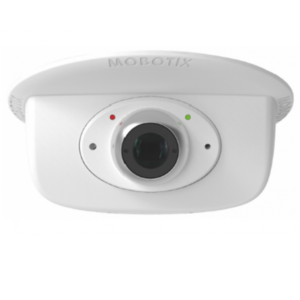 6MP Indoor Ceiling Camera
The p25/p26 6MP model is equipped with 6 Megapixel Moonlight sensor technology providing best low light performance to cope with every indoor situation.
The p25/p26 is positioned extremely price competitive and represents with all included MOBOTIX features and the MOBOTIX VMS MxMC, one of the most attractive security solutions in the market.
Standalone: Full functionality @ zero bandwidth
Video Sensor: MxActivitySensor reducing false alarms
Event Recording: Onboard (SD card) & direct to NAS
MxAnalytics: Heat map & people counting
Alarm Notification: E-mail, FTP & VoIP (SIP)
Communication: Two-way audio option
Power: Standard PoE below 4W
The p25/p26 is a ceiling camera with a manual pan/tilt functionality providing full installation flexibility. Equipped with a telephoto lens, the p25/26 can be directed to a specific spot in the room, with a 103 degree lens, and, mounted in the corner, the p25/p26 covers the entire space in 6MP resolution. A hemispheric version is available, too. For all indoor models, MOBOTIX offers a surface mount kit to cope with concrete ceilings, as well as special audio models incl. microphone and speaker to realize a two-way audio communication.
Highlights p25
Compact and discreet, manually panable and tiltable (-5° to -45°) 6MP Moonlight Camera for ceiling mounting indoors (IP20, 0°C to 40°C (32°F to 104°F)
The most light-sensitive MOBOTIX sensor lens technology ever; very low illumination requirements for day version: 0.1 lux (t = 1/60 s), for the night version: 0.02 lux (t = 1/60 s)
Maximum image size: 6MP in special format 3:2 (3072 x 2048 pixels)
Wide choice of lenses from distance telephoto (15°) to Hemispheric (180°)
With its extremely reliable and high-quality technical components, the camera is also perfect for continuous operation in professional applications (MTBF >80,000 hours)
Comes standard with MxAnalytics video analysis tools (used, for instance, to display customer traffic flows in a showroom)
Quick installation in suspended ceilings by simply mounting the camera using three spring clips
When installed in a corner, one single p25 with the ultra-wide angle lens records the entire space with no blind spots, thus replacing four conventional CCTV cameras
Available with either day or night sensor (color or black/white) and perfectly suited to demanding indoor applications with poor lighting conditions
Power supply via Ethernet cable (PoE IEEE 802.3af, class 2), low power consumption of typically only 4 W
p25 Body
p25 Body AUD
Indoors:
Indoor (IP20), 0…+40 °C
Indoor (IP20), 0…+40 °C
Lenses:
(35 mm equivalent)
Camera body only, can be equipped with lenses
B036 … B237 (103° – 15°)
Camera body only, can be equipped with lenses
B036 … B237 (103° – 15°)
Max. image size:
6 MP (3072 x 2048 pixels)
6 MP (3072 x 2048 pixels)
Zoom/Pan:
Continuous up to 8x Zoom + Pan/Tilt (digital)
Continuous up to 8x Zoom + Pan/Tilt (digital)
Max. framerate:
30@HD • 20@FullHD • 8@6MP
30@HD • 20@FullHD • 8@6MP
Sensitivity:
Day: 0.1 lux (t=1/60s) • 0.005 lux (t=1/1s)
Night: 0.02 lux (t=1/60s) • 0.001 lux (t=1/1s)
Day: 0.1 lux (t=1/60s) • 0.005 lux (t=1/1s)
Night: 0.02 lux (t=1/60s) • 0.001 lux (t=1/1s)
Interfaces:
Ethernet (MxRJ45), MiniUSB • with optional MxBus IO module 2 additional outlets
Ethernet (MxRJ45), MiniUSB • with optional MxBus IO module 2 additional outlets
Internal DVR:
MicroSD card (4 GB card pre-installed)
MicroSD card (4 GB card pre-installed)
Audio/Telephony:
Audio optional via ExtIO
With audio package (HD audio, integrated microphone, speaker)
Power supply:
PoE (IEEE 802.3af, class 2), consumption typ. 4 watts
PoE (IEEE 802.3af, class 2), consumption typ. 4 watts
Software functions:
Intelligent video analysis • digital zoom • programmmabale exposure windows • single image recording • Full
Featured Recording (MxFFS Archive, Continous Recoring, Full Image Recording) • Time and event driven • Week programs incl. public holidays • web functions • Logo generator • Linked event logic • Master/Slave activation • several time-driven privacy zones • Remote activation • program interface/HTTPAPI
Intelligent video analysis • digital zoom • programmmabale exposure windows • single image recording • Full
Featured Recording (MxFFS Archive, Continous Recoring, Full Image Recording) • Time and event driven • Week programs incl. public holidays • web functions • Logo generator • Linked event logic • Master/Slave activation • several time-driven privacy zones • Remote activation • program interface/HTTPAPI
Arming • Triggering:
365-day schedule • multiple events
365-day schedule • multiple events
External storage:
On PC/Server/NAS
On PC/Server/NAS
Article No.:
MX-p25-BOD1
MX-p25-BOD1-N
MX-p25-BOD1-AUD
MX-p25-BOD1-N-AUD
p26 Body
p26 Body AUD
Indoors:
Indoor (IP20), 0…+40 °C
Indoor (IP20), 0…+40 °C
Lenses:
(35 mm equivalent)
Camera body only, can be equipped with lenses
B036 … B237 (103° – 15°)
Camera body only, can be equipped with lenses
B036 … B237 (103° – 15°)
Max. image size:
6 MP (3072 x 2048 pixels)
6 MP (3072 x 2048 pixels)
Zoom/Pan:
Continuous up to 8x Zoom + Pan/Tilt (digital)
Continuous up to 8x Zoom + Pan/Tilt (digital)
Max. framerate:
42@HD • 34@FullHD • 12@6MP
42@HD • 34@MEGA • 12@6MP
Sensitivity:
Day: 0.1 lux (t=1/60s) • 0.005 lux (t=1/1s)
Night: 0.02 lux (t=1/60s) • 0.001 lux (t=1/1s)
Day: 0.1 lux (t=1/60s) • 0.005 lux (t=1/1s)
Night: 0.02 lux (t=1/60s) • 0.001 lux (t=1/1s)
Interfaces:
Ethernet (MxRJ45), MiniUSB • with optional MxBus IO module 2 additional outlets
Ethernet (MxRJ45), MiniUSB • with optional MxBus IO module 2 additional outlets
Internal DVR:
MicroSD card (4 GB card pre-installed)
MicroSD card (4 GB card pre-installed)
Audio/Telephony:
Audio optional via ExtIO
With audio package (HD audio, integrated microphone, speaker)
Power supply:
PoE (IEEE 802.3af, class 2), consumption typ. 4 watts
PoE (IEEE 802.3af, class 2), consumption typ. 4 watts
Software functions:
Intelligent video analysis • digital zoom • programmmabale exposure windows • single image recording • Full
Featured Recording (MxFFS Archive, Continous Recoring, Full Image Recording) • Time and event driven • Week programs incl. public holidays • web functions • Logo generator • Linked event logic • Master/Slave activation • several time-driven privacy zones • Remote activation • program interface/HTTPAPI
Intelligent video analysis • digital zoom • programmmabale exposure windows • single image recording • Full
Featured Recording (MxFFS Archive, Continous Recoring, Full Image Recording) • Time and event driven • Week programs incl. public holidays • web functions • Logo generator • Linked event logic • Master/Slave activation • several time-driven privacy zones • Remote activation • program interface/HTTPAPI
Arming • Triggering:
365-day schedule • multiple events
365-day schedule • multiple events
External storage:
On PC/Server/NAS
On PC/Server/NAS
Article No.:
Mx-p26A-6D
Mx-p26A-6N
Mx-p26A-AU-6D
Mx-p26A-AU-6N
p26
p26 AUD
Indoors:
Indoor (IP20), 0…+40 °C
Indoor (IP20), 0…+40 °C
Lenses:
(35 mm equivalent)
Camera p26 with lens B016 (180°) to B237 (15°)
Camera p26 with lens B016 (180°) or B036 (103°)
Max. image size:
6MP (3072 x 2048 pixels)
6MP (3072 x 2048 pixels)
Zoom/Pan:
Continuous up to 8x Zoom + Pan/Tilt (digital)
Continuous up to 8x Zoom + Pan/Tilt (digital)
Max. framerate:
42@HD • 34@FullHD • 12@6MP
42@HD • 34@FullHD • 12@6MP
Sensitivity:
Day: 0.1 lux (t=1/60s) • 0.005 lux (t=1/1s)
Night: 0.02 lux (t=1/60s) • 0.001 lux (t=1/1s)
Day: 0.1 lux (t=1/60s) • 0.005 lux (t=1/1s)
Night: 0.02 lux (t=1/60s) • 0.001 lux (t=1/1s)
Interfaces:
Ethernet (MxRJ45), MiniUSB • with optional MxBus IO module 2 additional outlets
Ethernet (MxRJ45), MiniUSB • with optional MxBus IO module 2 additional outlets
Internal DVR:
MicroSD card (4 GB card pre-installed)
MicroSD card (4 GB card pre-installed)
Audio/Telephony:
Audio optional via ExtIO
With audio package (HD audio, integrated microphone, speaker)
Power supply:
PoE (IEEE 802.3af, class 2), consumption typ. 4 watts
PoE (IEEE 802.3af, class 2), consumption typ. 4 watts
Software functions:
Intelligent video analysis • digital zoom • programmmabale exposure windows • single image recording • Full
Featured Recording (MxFFS Archive, Continous Recoring, Full Image Recording) • Time and event driven • Week programs incl. public holidays • web functions • Logo generator • Linked event logic • Master/Slave activation • several time-driven privacy zones • Remote activation • program interface/HTTPAPI
Intelligent video analysis • digital zoom • programmmabale exposure windows • single image recording • Full
Featured Recording (MxFFS Archive, Continous Recoring, Full Image Recording) • Time and event driven • Week programs incl. public holidays • web functions • Logo generator • Linked event logic • Master/Slave activation • several time-driven privacy zones • Remote activation • program interface/HTTPAPI
Arming • Triggering:
365-day schedule • multiple events
365-day schedule • multiple events
External storage:
On PC/Server/NAS
PC/Server/NAS
Article No.:
Mx-p26-6D016
Mx-p26-6N016
Mx-p26-6D036
Mx-p26-6N036
Mx-p26-6D061
Mx-p26-6D079
Mx-p26-6D119
Mx-p26-6D237
Mx-p26A-AU-6D016
Mx-p26A-AU-6N016
Mx-p26A-AU-6D036
Mx-p26A-AU-6N036