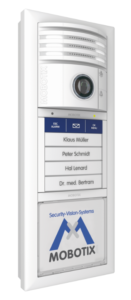 Better Overview. Increased Security. More Possibilities.
Door stations with integrated cameras have been around for years. They are almost always based on analog TV technology that is over 60 years old and, because of the system involved, can only deliver very low image quality. Such systems only enable limited two-way communication. The station is installed using a complex cabling and power supply system.

The new IP Video Door Station from MOBOTIX offers a modern, powerful solution that is easy to install and that has never been available to the market until now.
Two-way video around the world
Allround view with no blind spots
Recording with sound
Keyless access
Integrated message function
Very simple installation
T25 Smart Access Set 1
The T25 Smart Access Set 1 with T25 IP Video Door Station and MxDisplay+, the video remote station, are available for immediate use after installation because it is completely preconfigured in the MOBOTIX factory. The set offers home owners, in particular, the ideal way to start implementing a smart home, while improving comfort and safety for the whole family.
The MxDisplay+ is used to set the doorbell signals including the configurable sound and live color image. The highresolution door camera captures the entire entryway with no blind spots using its 180° panorama view. The home's inhabitants can speak with visitors with digital sound quality and activate the electric door opener with a tap on the display's touchscreen. The bell button module in the outdoor station makes it possible for the home's inhabitants to gain keyless entry to the home thanks to integrated RFID technology. The product ships with six preconfigured user RFID transponder cards that can be used right out of the box. They are activated for the specific Smart Access Set only.
T25 Smart Access Set 2
T25 6MP CamCore with day sensor, white
BellRFID module with large bell button
MxDisplay+
MxSwitch
Delivered fully preconfigured, the T25 Smart Access Set 2 is a user-friendly, easy-to-commission security solution featuring innovative smart home technology. The practical complete set is particularly well-suited for use in single-family homes and at small businesses. Because the solution can be expanded at any time, MOBOTIX is able to offer a future-proof door communication system that can be installed in combination with MxSwitch with even less cabling required. Along with the Door Station and MxDisplay+ provided with set, two further PoE network devices, such as an additional MxDisplay+ and IP camera, can be connected and powered.
Complete Kit No. 1
with Keypad
for Ethernet connection

T25 camera module
Keypad incl. 1 admin and 6 user badges
Info Module
Ethernet board MX-OPT-IO2
Triple frame with theft protection
Triple in-wall and on-wall housings
Various mounting material
Complete Kit No. 2
with Keypad
for two-wire connection and tamper-proof electrical door opening

T25 camera module
Keypad incl. 1 admin and 6 user badges
Info Module Mx2wire+ with indoor unit
Triple frame with theft protection
Triple in-wall and on-wall housings
MX-DoorMaster for in-wall mounting (MX-Door2-INT-PW)
Various mounting material
Complete Kit No. 3
with Keypad
for Ethernet connection and tamper-proof electrical door opening

T25 camera module
Keypad incl. 1 admin and 6 user badges
Info Module
Ethernet board MX-OPT-IO2T24-Info
Triple frame with theft protection
Triple in-wall and on-wall housings
MX-DoorMaster for in-wall mounting (MX-Door2-INT-PW)
Various mounting material