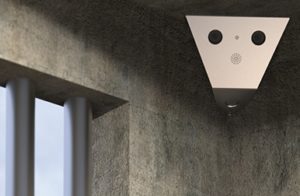 Perfectly armored. Perfectly equipped.
The MOBOTIX Vandalism is a high-resolution dual camera system designed for use in extreme situations. The 5 mm stainless steel armor will even resist an attack from a handgun. The perfectly protected technology inside is based on the unique multi-functional DualFlex system and benefits from its' flexible lens options and expandability. Thanks to the low power consumption, the system can be easily suppled by a PoE switch via a network cable.
Vandalism – Perfectly Protected.
Bulllet-proof IP dual camera for corner mounting
Operational at temperatures from -30 to +60 °C (-22 to +140 °F) (IP65)
Cost-efficient PoE power supply via network cable
Front plate and cover made from 5 mm stainless steel
6MP image sensors with Moonlight Technology for day and night (color and B/W)
Image angels of 90° and 45°
Automatic day/night switch
Two-way communication via integrated microphone and speaker
MxActivitySensor for intelligent motion detection
MicroSD card slot, 4 GB pre-installed
MxBus (V15) and MiniUSB connections for interface boxes
Technical Specifications Vandalism V15
Models
V15M, V15-Day, V15-DNight, V15-Night, V16-Day, V16-DNight, V16-Night
Lenses
B041 (90°) – B079 (45°)
Sensitivity
Color: 0.1 lux (t=1/60 s), 0.005 lux (t=1/1 s)
B/W: 0.02 lux (t=1/60 s), 0.001 lux (t=1/1 s)
2 Sensors
6MP image sensors with Moonlight Technology
1 or 2 sensors 1/1.8" CMOS, progressive scan
(three different positions possible)
Max. image resolution
6MP (3072 x 2048 pixels)
Image format
Freely configurable format 4:3/8:3/16:9 • User-defined formats (image cropping, for example, 5 MP, QXGA, Full HD, MEGA)
Max. frame rate (V16, MJPEG)
(Live/Recording)
26@HD • 13@Full-HD • 9@QXGA • 5@5MP • 4@6MP • 2@2x 6MP
Max. Video stream (V16, MxPEG)
(Live/Recording/Audio)
42@HD • 34@FullHD • 12@6MP • 6@2x 6MP
Image compression
MxPEG, MJPEG, H.264 (for V16)
Internal DVR
MicroSD card slot, (4GB card pre-installed)
External storage
Directly on NAS and PC/Server without additional recording software
Software (inclusive)
MOBOTIX Management Center MxMC, Video-Management-Software MxEasy,
Control room software MxManagementlCenter, App for iOS devices from iOS 5.0
Image processing
MxLEO, Backlight compensation, automatic white balance, image
distortion correction (panoramic image correction included), motion detection, MxActivitySensor
Virtual PTZ
Digital Pan/Tilt/Zoom, continuous 8x zoom
Alarm/Events
MxActivitySensor • Video motion analysis • Temperature sensor • Microphone sensor • Shock detector • Illumination sensor • Further sensors/IO via additional devices • Alarm notification via e-mail, FTP, VoIP
Audio
Integrated microphone and speaker, lip-synchronous HD wideband audio, two-way speaker, audio recording, telephony (VoIP, SIP)
Interfaces
Ethernet 10/100, IPv4/IPv6, MiniUSB, MxBus (V15), IO and RS232 via Interface Boxes (accessories)
Video phone telephony
VoIP, SIP, two-way speaker, remote controlling of the camera in- and outputs, event notification
Security
User-/Group management, HTTPS/SSL, IP address filter, IEEE 802.1x, Intrusion Detection, digital image signature
Certificates
EMV (living environments, industry), CE, FCC
Power supply
Power over Ethernet (PoE acc. IEEE 802.3af), PoE class variable (2/3) according to operating mode; power consumption typ. 5 W
Operating conditions
IP65, -30° bis +60 °C (-22°F to +140°F)
Dimensions
WxDxL: 26.1 x 19.6 cm x 18, Weight: ca. 4,680 g
Standard delivery
Vandalism-proof housing made of stainless steel (thickness 3 – 5 mm/0.12 – 0.20 in., front cover, lid) , mounting parts, allen wrench, patch cable, manual