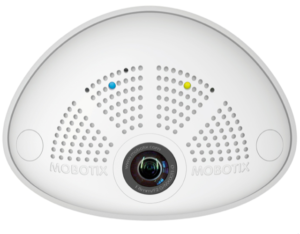 Indoors. Compact. Allround Secure.
The i25/26 is a hemispheric camera with 6MP Moonlight Technology and will be wall mounted with a tilt angle of 15 degree to achieve a perfect panoramic overview of a room. If mounted above the door the i25/26 looks even partially underneath or into the door. A surface mount kit for concrete ceilings­ is available as well.
The newly-designed wall mount form factor blends in with any environment. Available in both Day (color) and Night (B&W) models, which caters to the most challenging lighting conditions and a wide range of applications. The camera can be mounted onto any surface on a wall.

Brilliant light sensitivity with the 6MP Moonlight Technology day and night
Standalone: Full functionality @ zero bandwidth
Video Sensor: MxActivitySensor reducing false alarms
Event Recording: Onboard (SD card) & direct to NAS
MxAnalytics: Heat map & people counting
Alarm Notification: E-mail, FTP & VoIP (SIP)
Communication: Two-way audio option
Power: Standard PoE below 4W
i25
i25 AUD
Indoors:
IP30, 0…+40 °C
IP30, 0…+40 °C
Lenses:
(35 mm equivalent)
B016 (180° x 180°)
B036 (103° x 77°)
B016 (180° x 180°)
Max. image size:
6MP (3072×2048)
6MP (3072×2048)
Image sensor:
1/1.8″ CMOS sensor, 6MP (3072×2048 pixels), progressive scan
1/1.8″ CMOS sensor, 6MP (3072×2048 pixels), progressive scan
Max. framerate:
30@HD • 20@FullHD • 8@6MP
30@HD • 20@FullHD • 8@6MP
Sensitivity:
Color
0.1 lux (t=1/60s) • 0.005 lux (t=1/1s)
B/W:
0.02 lux (t=1/60s) • 0.001 lux (t=1/1s)
Color
0.1 lux (t=1/60s) • 0.005 lux (t=1/1s)
B/W:
0.02 lux (t=1/60s) • 0.001 lux (t=1/1s)
Interfaces:
Ethernet (MxRJ45), MiniUSB
Ethernet (MxRJ45), MiniUSB
Internal DVR:
MicroSD slot (4GB card pre-installed)
MicroSD slot (4GB card pre-installed)
Audio/Telephony:
Audio optional via ExtIO
With audio package (HD audio, integrated microphone, speaker)
Power supply:
Power over Ethernet (PoE nach IEEE802.3af):
PoE class variable (2/3), according to operating mode; power consumption typ. 4 W
Power over Ethernet (PoE nach IEEE802.3af):
PoE class variable (2/3), according to operating mode; power consumption typ. 4 W
Software functions:
Intelligent video analysis • digital zoom • programmmabale exposure windows • single image recording • Full
Featured Recording (MxFFS Archive, Continous Recoring, Full Image Recording) • Time and event driven • Week programs incl. public holidays • web functions • Logo generator • Linked event logic • Master/Slave activation • several time-driven privacy zones • Remote activation • program interface/HTTPAPI
Intelligent video analysis • digital zoom • programmmabale exposure windows • single image recording • Full
Featured Recording (MxFFS Archive, Continous Recoring, Full Image Recording) • Time and event driven • Week programs incl. public holidays • web functions • Logo generator • Linked event logic • Master/Slave activation • several time-driven privacy zones • Remote activation • program interface/HTTPAPI
Arming • Triggering:
365-day schedule • multiple events
365-day schedule • multiple events
External storage:
PC/Server/NAS
PC/Server/NAS
Article No.:
MX-i25-D016
MX-i25-D036
MX-i25-6D-016-AUD
i26
i26 AUD
Indoors:
IP30, 0…+40 °C
IP30, 0…+40 °C
Lenses:
(35 mm equivalent)
B016 (180° x 180°)
B036 (103° x 77°)
B016 (180° x 180°)
B036 (103° x 77°)
Max. image size:
6MP (3072×2048)
6MP (3072×2048)
Image sensor:
1/1.8″ CMOS sensor, 6MP (3072×2048 pixels), progressive scan
1/1.8″ CMOS sensor, 6MP (3072×2048 pixels), progressive scan
Max. framerate:
42@HD • 34@FullHD • 12@6MP
42@HD • 34@FullHD • 12@6MP
Sensitivity:
Color
0.1 lux (t=1/60s) • 0.005 lux (t=1/1s)
B/W:
0.02 lux (t=1/60s) • 0.001 lux (t=1/1s)
Color
0.1 lux (t=1/60s) • 0.005 lux (t=1/1s)
B/W:
0.02 lux (t=1/60s) • 0.001 lux (t=1/1s)
Interfaces:
Ethernet (MxRJ45), MiniUSB
Ethernet (MxRJ45), MiniUSB
Internal DVR:
MicroSD slot (4GB card pre-installed)
MicroSD slot (4GB card pre-installed)
Audio/Telephony:
Audio optional via ExtIO
With audio package (HD audio, integrated microphone, speaker)
Power supply:
Power over Ethernet (PoE nach IEEE802.3af):
PoE class variable (2/3), according to operating mode; power consumption typ. 4 W
Power over Ethernet (PoE nach IEEE802.3af):
PoE class variable (2/3), according to operating mode; power consumption typ. 4 W
Software functions:
Intelligent video analysis • digital zoom • programmmabale exposure windows • single image recording • Full
Featured Recording (MxFFS Archive, Continous Recoring, Full Image Recording) • Time and event driven • Week programs incl. public holidays • web functions • Logo generator • Linked event logic • Master/Slave activation • several time-driven privacy zones • Remote activation • program interface/HTTPAPI
Intelligent video analysis • digital zoom • programmmabale exposure windows • single image recording • Full
Featured Recording (MxFFS Archive, Continous Recoring, Full Image Recording) • Time and event driven • Week programs incl. public holidays • web functions • Logo generator • Linked event logic • Master/Slave activation • several time-driven privacy zones • Remote activation • program interface/HTTPAPI
Arming • Triggering:
365-day schedule • multiple events
365-day schedule • multiple events
External storage:
PC/Server/NAS
PC/Server/NAS
Article No.:
Mx-i26A-6D016
Mx-i26A-6D036
Mx-i26A-6N016
Mx-i26A-6N036
Mx-i26A-AU-6D016
Mx-i26A-AU-6N016
Mx-i26A-AU-6D036
Mx-i26A-AU-6N036